Objective:
To provide learners with opportunities to network and learn from their peers.

To provide learners with opportunities to network with industry relevant experts.

To provide learners with opportunities to enhance their subject relevant skills and knowledge.

To provide learners with opportunities to reflect, and to plan.

To improve learners confidence and self-belief.

To support learners in setting up and growing their own Enterprises.
Introduction:
In north east Wales a number of criminology students (along with peers from a variety of degree programmes) develop their enterprise skills by engaging with expert guest speakers, facilitated by the Business Entrepreneurship Network.
The Business Entrepreneurship Network for Wrexham and Flintshire is a network of businesses, business support organisations, entrepreneurs and education institutions with a shared interest in supporting individuals (especially young people and those from disadvantaged backgrounds), in developing their confidence, aspirations and abilities, and supporting them through the process of starting up their own businesses.
The network was established by Askar Sheibani, CEO of Comtek Network Systems LTD, and an appointed 'Entrepreneurship Champion' to Welsh Government. In 2014, having been successfully developed in Flintshire, the Network's provision was extended to Wrexham. Speaking at the launch of the Wrexham Network, Mr Sheibani said, "The aim is to increase the number of business start-ups in Wales and this trial in Wrexham will give us a better ideaof how the Flintshire model can be improved and applied in other regions. The Wrexham trial is supported by the Welsh Government and we are confident that the model – which was developed within the community at a grass roots level - will prove to be a practical and innovative way to increase the level of entrepreneurship and business start-ups in Wales."
Amongst the ways in which the Business Entrepreneurship Network supports entrepreneurs, is via fortnightly 'Enterprise Clubs.' These clubs are coordinated in Wrexham by NE Wales based further education institution Coleg Cambria, and feature presentations by invited guest speakers, followed by informal networking.
The use of guest speakers at enterprise clubs has been of tremendous value to learners. The clubs are held at Wrexham Library, a centrally located and publicly accessible venue, and are open to students, graduates and members of the public free of charge.
A number of regular attendees are current NE Wales based undergraduate students, from a wide-variety of degree programmes. Attendees range from those setting up their own businesses, to students looking to develop their networks and skills for employment, to those simply wishing to develop their confidence and find out more.
Activity:
Planning Guest Speaker Sessions
There is no budget to facilitate guest speakers to the Enterprise Club. As such, appropriate speakers are identified from a variety of sources, including;
Contacts from the professional networks for the Business Entrepreneurship Network and its supporters.

Representatives from a variety of business support organisations (who are able to cover their costs from their own funds).

Funded schemes, for examples, the Welsh Government funded 'Big Ideas Wales Role Model' network.

Experts from further and higher education (able to offer their time in kind).
Club members are invited to suggest the topics and themes they would like the club to cover in the coming weeks and months, and speakers are sourced to meet these specific needs, ensuring sessions are always relevant to their audience. Speakers are generally confirmed two weeks prior to a club meeting, allowing for the sessions to be promoted through a club mailing list, through professional networks, through general press release, and through social media.
Facilitating Guest Speaker Sessions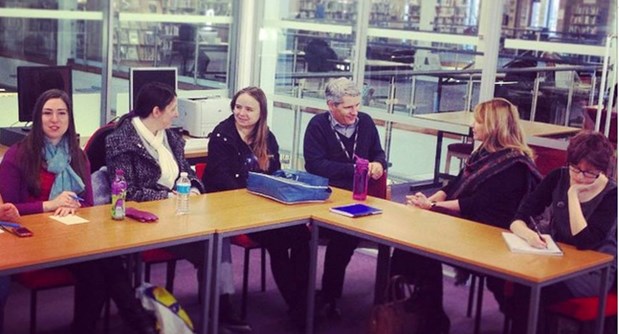 Figure 1. Attendees discussing ideas at the BEN Enterprise Club
Enterprise Club sessions last for 2 hours. The general running order is as follows;
The club's facilitator (Lynn Williams, Business Lecturer at Coleg Cambria) welcomes attendees.

The speaker is introduced to the group.

The speaker delivers a talk / workshop for approximately 1 hour. AV presentation facilities are provided for speakers who require them. (The majority of guest speakers deliver sessions inclusive of amble discussion points and break away activities).

The facilitator invites Q and A from the group at the end of the talk.

For the second hour of the session, refreshments are provided, and guest speakers and club members are invited to stay, discuss the content covered in the session, and informally discuss problems, achievements and ideas.

The facilitator thanks for guest speaker and group for their attendance, and the group are invited to suggest topics they would like to visit at the club in the weeks and months ahead.

The details of the following club presentation are promoted to the group, and the club is brought to a close.
Impact:
The guest speaker sessions have made a huge impact on the club attendees. The first hand, up-to-date, and relevant knowledge and expertise which speakers have passed on to club members, is directly applicable to the groups of needs and endeavours, and the opportunity to network with speakers and fellow club attendees has led to numerous mentoring relationships and collaborative projects, and allowed members of the group to identify bespoke solutions to their own specific problems.
Approximately 100 unique individuals have participated in the guest speaker sessions to date, with average attendances of 10 participants at each club meeting, and with many new enterprises being launched by club members.
Learner outcome:
Comments from regular club attendees have included;
"The staff, the entrepreneurs and the members have helped me out a lot and not just with my business. They have boosted my confidence and made me feel like I could really achieve my dreams."
"BEN has helped me a great deal with starting up my business and I have been given so much positive feedback from both mentors and fellow members."
"The BEN Club has allowed me to work with a great mentor and meet great people with passion for business."
Resources:
An appropriate meeting venue.

A network from which guest speakers can be provided.

For a How-To Guide and utilising guest speakers, see 'Guest Speaker Guidance.'
References:
Author:
With thanks to Lynn Williams, Coleg Cambria – lynn.williams@cambria.ac.uk