Objective:
To develop the communication skills of students and recent graduates of art, media and design courses, to better equip them for business.

To support the promotion of start-ups created by students and recent graduates of art, media and design courses.

To provide new students of art, media and design with inspiration and confidence with regards their enterprise capacities.

To stimulate ideas generation in new students of art, media and design, with regards to potential future enterprises.

To foster peer-to-peer support through new media.
Introduction:
Many students of art, media and design at Glyndwr University go on to become self-employed; either as professional artists, as freelancers working for a variety of design firms, or through creating their own businesses. Given the nature of their industry, almost all will be required to work for themselves at some point as they pursue a creative career.
However, on arriving at University, many have limited or no previous knowledge, understanding or experience of enterprise, and many lack confidence and self-belief in their own abilities.
Much work is done throughout the duration of students' studies at the University to develop these students' skills and equip them appropriately for their future endeavours.
One part of this approach is through peer to peer learning through film. Students often engage well with information, when relayed by their peers, who share common interests, experiences, and reference points. Working with ZONE, Glyndwr University's enterprise support service, a series of film were produced, featuring current students and recent graduates of art, media and design programmes, who had achieved success in the development of new enterprises, or in the early stages of their freelance careers.
These films had a target audience of new creative students, and communicated key information, regarding the personal learning journeys of the individuals, their successes and failures, how they had started out, and how they engaged with the support available to them at the University. Their aim was to encourage new students to generate ideas for their own future enterprises, to follow the actions taken by their peers, and to utilise the support available to them at the University.
The films were disseminated widely, and achieved their desired effect. A secondary impact was the benefit of the project to the students and graduates who featured in the films, who developed their own communication skills, were given the opportunity to reflect on their own learning journey, and equipped with a valuable resource for the promotion of their products and services.
Activity:
Film Planning
4 students and recent graduates of art, media and design were identified as candidates to feature in films. This was achieved through the existing networks of ZONE Enterprise Hub, the University's enterprise support service, which supports students through the process of business start-up.

These individuals were contacted, and their support for the project secured.

A recent Glyndwr University graduate, now managing his own film production company 'Filmage', was secured to produce the films, and a fee and terms agreed.

A series of questions was produced, for each individual featuring in a film to answer. These were shared with the participants, discussed and final questions and answers agreed upon. These were then shared with Filmage for information.

Times, dates and locations for filming were discussed and agreed upon with participants. These were then shared with Filmage for information.

For participants with limited, or no previous experience of producing filmed content before, help and support were offered regarding presentation skills and other factors to consider.

Storyboards for films (all designed to be 2 – 3 minutes in length) were produced by ZONE, and sent to Filmage and participants for final agreement prior to filming.
Film Production
Filmage produced the four short films. A dialogue was maintained with ZONE regarding the progress of these throughout.

ZONE supported participants in performing on camera, and perfecting their presentation skills whenever required.

After filming was complete, ZONE met with Filmage to discuss film drafts, and provide feedback regarding how films should be edited.

The completed 4 films were supplied to ZONE as both digital files and hard copies.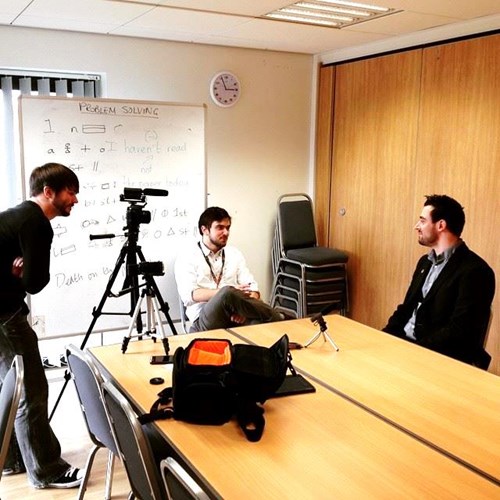 Figure 1: Filming in Progress
Film Dissemination
The films were uploaded to the 'ZONEGlyndwr' YouTube channel, and disseminated via social media.

Links to the films were shared with all who had participated, to distribute via their own networks.

They were played to students during their Art, Media and Design induction sessions during Freshers' Week.  

They were linked through the University's Virtual Learning Environment, Moodle.  

They were played to prospective students at a variety of student recruitment events.

They were integrated into a number of ZONE talks and workshops.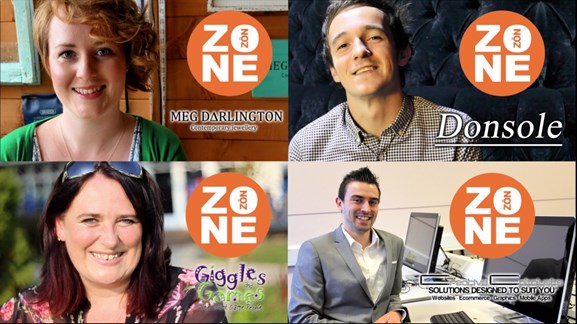 Figure 2: Title Shots from the Completed Films
Impact:
The films have proven an excellent resource. To date, they have received over 1000 view through social media, and through their integration into talks, lectures and workshops, have been seen by many thousands of learners. This level of peer-to-peer engagement would not have been logistically possible without these films.
The direct connection learners have to the individuals featuring in the films makes their messages potent, and the information they communicate regarding starting up in business is invaluable. Following the production of the films featuring students of Art, Media and Design, additional films were made (following the same pattern as outlined above), with students of Business and Computing (and their businesses Creative Catalysts and Giggles and Games), allowing the good practice to be shared between departments.
The individuals who featured in the films were all very pleased with the results, and all went on to use the films for their own promotional purposes.
The graduate business who created the films (Filmage) were able to enhance their own reputation and networks through the project, leading to further work for them and supporting the development of their own business.
Learner outcome:
The peer to peer learning fostered through the films achieved its desired effect. Prospective students, new students, and even more experienced students heard directly from their peers that self-employment was a viable option, and were told the steps they needed to take to make it happen. Many have subsequently engaged with the enterprise service at the University, and cited these films as a contributory factor.
For the participants who featured in the films, the exercise was a valuable learning experience too, with many reporting the confidence they had gathered as a result, as well as bolstered skills in communication to support their future endeavours.
Resources:
For a How To Guide on how to create peer-to-peer film content, see How To Guides 'The use of bespoke film content to engage learners in enterprise support.'

Expert support in filming, editing and producing film content is essential in the delivery of this project, as is the support of student and graduate start-up businesses.
References:
Author:
With thanks to the School of Art, Media and Design, Glyndwr University, Joe Edwards (www.filmage.co.uk) and the students and graduates who featured in the films.